MACHINES AND LINES FOR NONWOVENS' PRODUCTION
WADDINGS, FELTS (NEEDLE PUNCHED), SPUNBOND, SPUNLACE, MELTBLOWN and others.

Machines / lines / technological solutions typical and designed for individual specialized request.
Consulting,
designing
, comprehensive conceptual development / technological innovation
s
/ EU projects ...
The company Maszyny2002 is an European producer and designer of serial and customized nonwoven machinery. Our goal is to provide our Clients with affordable machines and comprehensive solutions for all kinds of nonwoven production.
Years of cooperation with nonwovens' producers and components' manufacturers from allover the world, along with deep experience in designing, constructing and machines / technology counseling, firsthand knowledge of European and global textile market requirements has resulted in our innovative project, much exceeding the standards of a typical market offer of machines production and sale. We provide each our Client the best technological solution that meets hopes / expectations related to the decision of machinery purchase - with high product quality and attractive low prices.
Our machines are manufacture on request, with delivery time depending on the size and complexity of the established technological solution. For typical machines, the standard delivery time is about 3 months.
We provide an expert advice and comprehensive service of your order: ideology - concept / consultations / manufacturing / delivery / installation / commissioning / personnel training / all kind of possible service.
We are open to individual / own clients' suggestions related to particular machine's construction, or developing an unique technology of the new product. We provide the precious opportunity of detailed discussion among the experts on each topic related to the specific machine's construction or manufacturing of a new / desired product - to achieve an optimal solution satisfying both, our clients - and us. We also provide an unusual opportunity to check / test the ordered machines in our factory - before the delivery / shipment.
Each new challenge raises our personal qualifications, however, at the same time confirms our belief that in technology of nonwovens' production the last word will never be uttered. With creative inspirations and the emerging needs of our contemporary market every year there appear new kinds of nonwovens, produced by new technologies for new purposes.
Create with us the new category of nonwoven's future...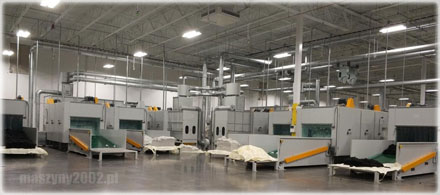 It will be our pleasure to reply all of your further questions. Feel free to ask for more information...
Copyright © Maszyny2002 / 2000 — 2018